Cycling in Vermont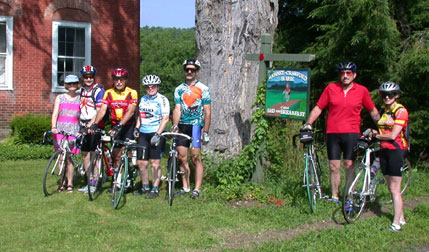 GIFT CERTIFICATES MAKE GREAT PRESENTS
Call or Email for details
Need a vacation? Don't have time for the standard two weeks in August? Have you considered a three or four day, or even a weekend biking get away? Bicycle touring from the Ranney-Crawford House will work your muscles while refreshing your mind.
Here are some reasons why you should choose Vermont's Ranney-Crawford House Bed and Breakfast for your Southeastern Vermont bicycling tours.
Free cycling cue sheets for both road and mountain bike rides from our front door ranging from ten to 100 + miles
Free support van help that is only a phone call away
Arnie, your host, would be happy to personally lead bicycling tours, just ask him. - free of charge
Bring your own bike or rent one nearby: $25 road, $20 mountain per day
Free help with minor bike repairs and adjustments
Beautifully appointed rooms with queen size beds (roll away beds available) with prices ranging from $185- $215 per day depending on room and season based on double occupancy
Big farm fresh gourmet cyclists breakfast and after ride snacks on our patio
All our rooms have air conditioning, private baths and free wi-fi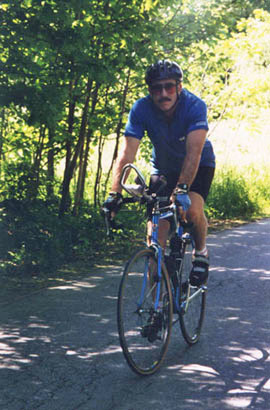 Ride the well-paved scenic roads of Southeastern Vermont and New Hampshire, starting at the Ranney-Crawford House. Arnie has cue sheet directions for road bike and mountain biking rides ranging from ten to over one hundred miles for self-guided or free guided tours. Terrain varies from gently rolling to very steep. Some of these cue sheets are listed on our website, click on cue sheets above. Also, check out our biking website www.cyclingvermont.com.
"Great cycling, food and shopping in Putney!" J. S., Stanhope, New Jersey
We offer organized group rides and day long bicycling tours. Arnie loves to show people the cyclists view of the Vermont countryside.
"The place for a cycling vacation in Southern Vermont." K.G., Woodbridge, New Jersey
We can make special arrangements for cycling clubs and groups interested in weekend club rides and tours. If sufficient notice is given, we can arrange to have larger groups stay at nearby lodging while using the Ranney-Crawford house as a central meeting place.
"What a great place for bicycle touring! The biking and food were perfect." C.Y., Boulder, Colorado
If you would rather be on dirt roads and trails, Putney is famous for its stunning mountain views and forest greenery. Arnie has prepared cue sheets for non-technical scenic back roads as well as some more technical trails.
"Arnie's cue sheets took us on cycling routes that we would never have found. Thanks for a great biking weekend." S. M, Vestal, NY
Bikes and bike equipment can be rented at the West Hill Bike Shop (www.westhillshop.com 802-387-5718) located in Putney and offers a 10% discount for our guests or the Brattleboro Bike Shop (www.bratbike.com 800-272-8245).
"Our visit to the Yellow Barn Music Festival was made even better when we added a few days of bicycle touring around the backroads of southern Vermont."J. H., NY, NY
Ride on your own, with our cue sheets, or join us for a group ride. Whether it's road or trail cycling, the Ranney-Crawford House is the place to stay in southern Vermont for your Vermont getaway. You'll enjoy some of New England's best road and mountain biking.